Providing an initial due diligence list is often a great way to initiate transaction-related dialogue with a CEO or management team interested in exploring a capital raise or sale of the business. Typically a due diligence list will evolve and expand as interest in a transaction grows, but it can be intimidating if the initial list provided is too thorough. Collecting a large amount of company data and presenting it in a shareable format takes considerable effort, which makes a short diligence list a helpful introduction. The template available for download contains two such due diligence lists.
The workbook also has a tab that provides an overview of the deal process. Developing a due diligence plan and identifying the third parties that will help execute on this plan are critical steps in any transaction.
Pasted below is the text from the shorter of the two (DD List_Max Reduced):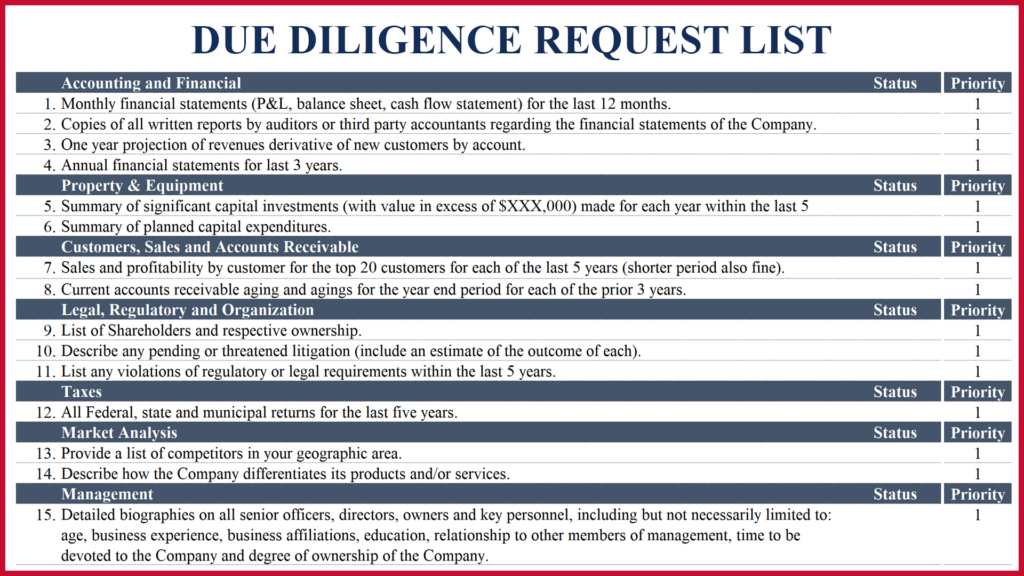 Accounting and Financial
Monthly financial statements (P&L, balance sheet,) for the last 12 months.
Copies of all written reports by auditors or third party accountants regarding the financial statements of the Company.
One year projection of revenues derivative of new customers by account.
Annual financial statements for last 3 years.
Property & Equipment
Summary of significant capital investments (with value in excess of $100,000) made for each year within the last 5 years.
Summary of planned capital expenditures.
Customers, Sales and Accounts Receivable
Sales and profitability by customer for the top 20 customers for each of the last 5 years (shorter period also fine).
Current accounts receivable aging and agings for the year end period for each of prior 3 years.
Legal, Regulatory and Organization
List of Shareholders and respective ownership.
Describe any pending or threatened litigation (include an estimate of the outcome of each).
List any violations of regulatory or legal requirements within the last 5 years.
Taxes
All Federal, state and municipal returns for the last five years.
Market Analysis
Provide list of competitors in your geographic area.
Describe how the Company differentiates its products and/or services.
Management
Detailed biographies on all senior officers, directors, owners and key personnel, including but not necessarily limited to:  age, business experience, business affiliations, education, relationship to other members of management, time to be devoted to the Company and degree of ownership of the Company.
Template available for download: Private Equity Training_Deal Process Overview_Simple Due Diligence
Related Content
For more information and additional examples of due diligence lists please see the Private Equity Training curriculum.