Taylor Swift may be the most viral example of an attempt to destroy earnout value. If you have access to the internet, then you likely know that Swift was furious when she learned that her first six albums had been sold without her knowledge.
Swift originally recorded these albums with Big Machine Label Group, and in 2019 BMLG was acquired for $300 million by Ithaca Holdings, which was founded by famed music manager Scooter Braun and counts The Carlyle Group as a minority investor. Swift claimed that the transaction was "stripping her" of her life's work, and much to the new investor's dismay, she also announced her intention to re-record all six albums.
In response, Braun and his investors immediately began looking for an exit. At this point Braun and Swift were at odds, and Swift claims she wasn't allowed to make a bid.[1] To promote interest in the transaction, Braun and his investors suggested that Swift might not follow through with her threats and that all of the media surrounding the controversy could potentially boost the albums' popularity.
Shamrock Capital, a firm founded by Roy E. Disney (nephew of Walt Disney), found it intriguing and acquired the masters to Swift's first six albums for approximately $300 million a little over a year later. The transaction took place without Swift's knowledge, and Braun and his private equity backers likely did well because BMLG held additional assets, suggesting that the initial investment may very well have been recouped by selling only a portion of the portfolio. But the controversy surrounding the transaction created uncertainty about the albums future earnings potential.
While I cannot say for certain, I imagine this controversy and Swift's threats led to the negotiation of an earnout in the purchase price. An earnout is a contractual provision stating that the seller of the business is entitled to additional future compensation based on the performance of the business post-acquisition. In this case the purchase price included a $50 million earnout, which could only be earned if the assets achieved certain targets.[2] No details about those metrics were included, but The Financial Times reported on the assets earning power:
The Swift catalogue earns about $15m a year, according to people who have seen its financials. So Shamrock's price at $250m works out to a multiple of about 16 or 17 times its historic income.[3]
Swift was contacted by Shamrock only after the transaction closed. In this process, Swift learned that Braun would continue to benefit financially from the transaction, which further angered her: "I was hopeful and open to the possibility of a partnership with Shamrock," she wrote. "But Scooter's participation is a non-starter for me."[4]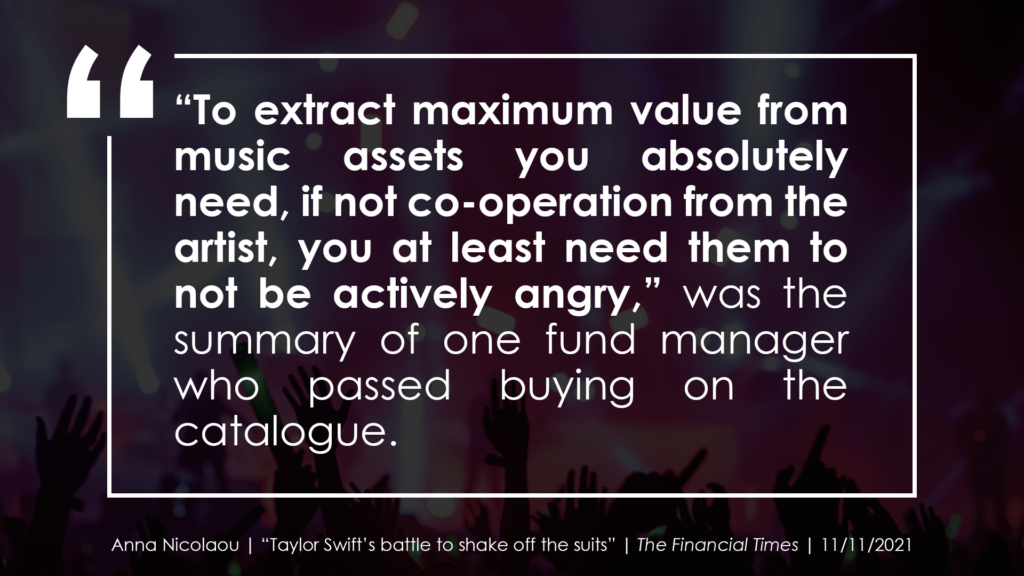 The "participation" was most likely a reference to the $50 million earnout. In response, Swift reiterated her intention to re-record the albums. I would love to know if she was successful in destroying the value of the earnout. The only data point I could find was that a new recording of Fearless was streamed 50% more times when compared to the original over the course of a single week in October of 2021.
Loyal fans also stepped in to help and posted detailed tutorials to prevent the original Shamrock-owned tracks from appearing on their Spotify feeds. But this may also be an indication of how the popularity of her albums likely soared during this period. If so, and even if the earnout was earned, Swift still benefited from the economics tied to her original masters and the newly re-recorded tracks.[5] Truly a win-win situation for the star.
An earnout is a tool beneficial to both parties when used appropriately. But earnouts can also create friction between parties and at times lead to litigation. In the weeks that follow we will describe how earnouts are structured, how they can be modeled and accounted for, and how to avoid common earnout mistakes.
Note: ASM is developing a new series focused on earnouts as part of our Content Creation Initiative with Katten. Over the next few weeks we will develop a course that explains how earnouts are structured and modeled. 

Footnotes:
[1] When she attempted to negotiate a transaction, Swift was asked to sign "an ironclad NDA stating that I would never say another word about Scooter Braun unless it was positive, before we could even look at the financial records of BMLG… My legal team said that this is absolutely NOT normal, and they've never seen an NDA like this presented unless it was to silence an assault accuser by paying them. He would never even quote my team a price. These master recordings were not for sale to me."
[2] Anna Nicolaou | "Taylor Swift's battle to shake off the suits" | The Financial Times | 11/11/2021 | Visit
[3] Anna Nicolaou | "Taylor Swift's battle to shake off the suits" | The Financial Times | 11/11/2021 | Visit
[4] Adam Lewis | "Shamrock scoops up part of Taylor Swift's catalog in $300M deal" | PitchBook | 11/17/2020 | Visit
[5] Tim Ingham | "Why Did Shamrock Capital Spend $300 Million on Old Taylor Swift Albums?" | RollingStone | 11/17/2020 | Visit