When a private equity group or independent sponsor is working towards an acquisition, they will ask providers of capital to submit a Summary of Terms or Term Sheet to gauge preliminary interest in financing the transaction. Once these documents have been collected from all interested parties, the private equity group will determine which lenders it wants to move forward with. This video will walk you through a term sheet from a senior lender and explain the most important variables to be aware of when you are modeling a transaction.
This post references an example Senior Debt Summary of Terms (Senior Debt Summary of Terms), which is available for download. The company described in the document is entirely fictional.
As it relates to building financial models, the most important variables to be aware of are as follows:
The amount of the loan
Maturity
The cash flow sweep
The interest rate
The amortization schedule (defines how the loan is paid back)
Financial covenants
Financing fees
Items 1 through 5 above are required to build a debt schedule (see how this is done in the Leveraged Buyout Model video series). The financial covenants are critical because they allow you to run scenarios and determine if you are in compliance with your lenders. Per the screenshot visible below, the video will identify all of these items in the PDF document available for download.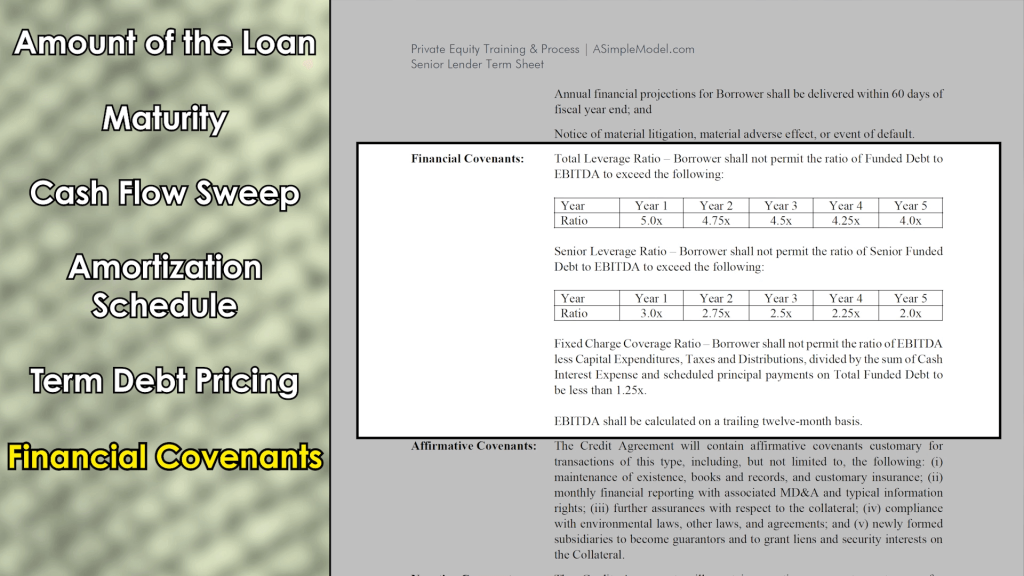 Related Links: