The Chairman and CEO of LVMH, Bernard Arnault, developed a reputation as a ruthless negotiator in the course of building the largest luxury goods conglomerate in the world (much of which was accomplished via acquisition). So much so, in fact, that over time, he earned the moniker "Wolf in Cashmere." And in the process of posturing to acquire Tiffany & Co. ("Tiffany"), Arnault's deal-making tactics were on full display.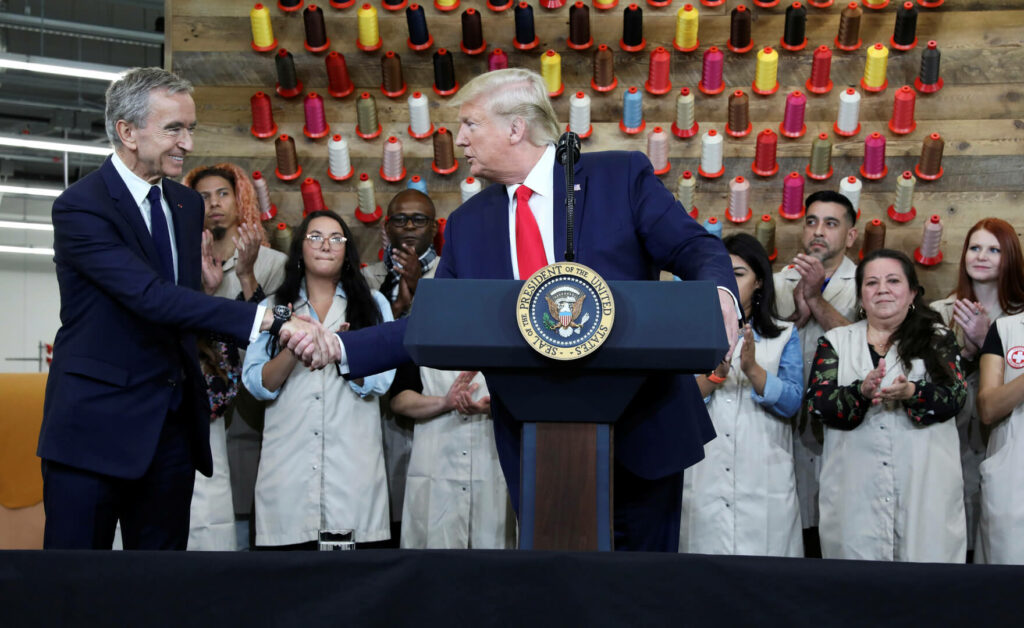 Image: U.S. President Donald Trump visits the Louis Vuitton Rochambeau Ranch leather workshop in Keene, Texas. Jonathan Ernst / Reuters.
Long before LVMH publicly announced any designs on acquiring Tiffany & Co., Arnault made the decision to build a Louis Vuitton factory in Texas, likely at least in part to win over the President of the United States in anticipation of smoothing the path for a future acquisition.
This was not the first Louis Vuitton factory built on US soil and reporting at the time did not suggest that there was an ulterior motive. But once the Tiffany acquisition was announced, many saw it as a brilliant strategic maneuver. Per a Harvard Business School case study, the factory opening was designed to further strengthen Arnault's relationship with the Trump administration:
Before going public with LVMH's intention to acquire Tiffany, Arnault wanted to ensure that his efforts to own the iconic American brand would not face any hurdles from the US government. He set in motion a plan to gain the support of a person who could remove any potential roadblocks from the deal's approval process – US President Donald Trump.
In October 2019, LVMH opened a new factory in Texas for its Louis Vuitton brand. The move raised eyebrows in the luxury retailing world because manufacturing operations for Louis Vuitton were primarily based in Europe (mainly France and Italy). LVMH promised to provide 1,000 jobs for Americans at the Texas facility, but only 150 were employed at the time of its opening. Arnault nevertheless managed to get President Trump to attend the facility's opening ceremony. At the ribbon cutting event, President Trump promoted his administration's success in bringing manufacturing jobs back to the US and noted, "[t]oday, we continue the extraordinary revival of American manufacturing and we proudly celebrate the opening of the brand-new Louis Vuitton – a name I know very well… cost me a lot of money over the years."*
The Louis Vuitton Texas factory opening received incredible press coverage, and Arnault convincing Trump to attend the event was a brilliant maneuver. At the time, the Trump administration was focused on bringing jobs back to the United States, and Donald Trump was publicly critical of companies moving jobs overseas. A foreign company buying a prime US asset such as Tiffany might otherwise have been viewed negatively by the Trump Administration, whose Justice Department would have a primary say in whether or not to challenge the acquisition on anti-trust or "national security" grounds. It seems likely that Arnault anticipated and found a way to mitigate this challenge, while managing to flatter the US president in the process.
Note: This content pulls from the Private Equity Training course titled Deferred Closing vs Sign and Close, which describes differences between a simultaneous sign and close and a deferred closing in a stock purchase agreement.
*Guhan Subramanian, Julian Zlatev, Raseem Farook | "LVMH's Bid for Tiffany & Co." | The Harvard Business School | 3/22/2021 | p. 3