The 
Integrating Financial Statements video series
 is 
heavily focused on the three statement model
. The three statement model is the single most important model you can learn to build as an aspiring financial analyst. It is the foundation upon which all thorough analysis is built.
By way of example, a discounted cash flow (DCF) model will pull relevant information from a three statement model, and a leveraged buyout model (LBO) is effectively a modified three statement model. We will elaborate on both of these models in future video series, but for the time being know that mastering the three statement model will make learning any other kind of fundamental model easier.
Because it can be intimidating to see all three financial statements on one Excel worksheet, the instruction starts by highlighting the model-building sequence, which can be summarized as follows:
Input the Historical Data
Project the Three Financial Statements (in the order that follows)
Income Statement
Balance Sheet
Cash Flow Statement
Build the Supporting Schedules
Debt Schedule
PP&E Schedule
The first three statement model is then presented in a format that allows the user to view it in its entirety on one screen without scrolling (click on the image for a larger version).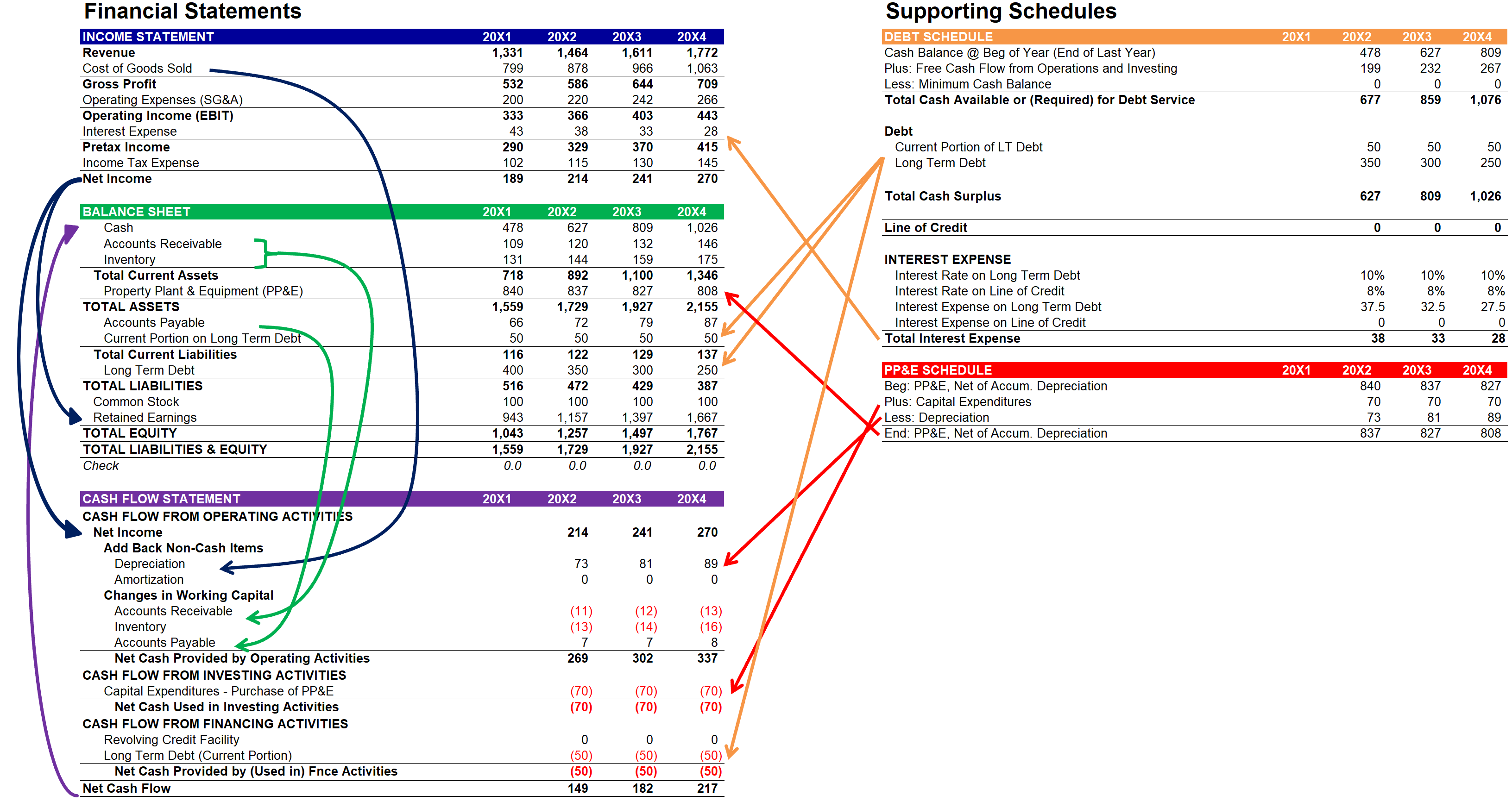 Each individual step is then highlighted on the color-coded model to help create a mental framework for the process involved in building a three statement model with more detail. Skip to 1:34 in the video that follows for an explanation.
The next step is to build the model yourself. The video that follows is part one of a two part series that will walk you through the process in its entirety. The templates for these models are available as part of the instructional series.
Once you have completed this process the remainder of the video series focuses on regular challenges faced building a three statement model and explains how to incorporate more detailed schedules when necessary. The remaining topics are as follows:
Broken Models & Circular References (LINK)
Circular references are frequently responsible for crashing financial models. This video will explain how they work, and how to fix your model by focusing on the most common circular reference error found in financial models: the interest expense circularity.
Balancing a Three Statement Model (LINK)
Balancing a financial model can be a frustrating experience. This video will walk through the most common errors made, and how to fix them quickly.
Exercise: Building the Model 
This video introduces a model building exercise. The concept was introduced by a professor at a nearby university who uses ASM to introduce students in his Corporate Finance class to financial models. What follows is a variation of his assignment. It will challenge you to build a model on your own, and think through the variables as you do.
Three Statement Model: Scenarios 
In this video we will revisit the three statement model, and begin incorporating additional flexibility with new inputs and scenario options.
This video introduces a more advanced Property Plant & Equipment supporting schedule, which is important as your models increase in complexity. The video also focuses on how to efficiently delete an old supporting schedule and integrate a new one.
PP&E Schedule Options (LINK)
In this video we will explore several different options for PP&E schedules. The video also touches on several new topics including the Half-Year Convention and an accelerated depreciation method known as the Sum of the Years' Digits.
Dividends in a Financial Model (LINK)
This video explains how to update a three statement model to include cash dividends. Two examples are provided.
Projecting Stockholders' Equity (LINK)
This video is focused on projecting stockholders' equity for the Home Depot (NYSE: HD).
Flow Through Questions
In this video we explore how an increase in depreciation expense impacts the three financial statements. The notes will explore this same question for a variety of additional topics.