Private Equity Sourcing Strategy
Summary Text
.
I have always believed that the right asset purchased at the right price can change your life. It only takes one asset purchased at the right price to build an empire or retire early. Beyond the outlier outcomes, however, is the need to consistently find investment opportunities to generate attractive risk-adjusted returns for investors.
To achieve this at scale and with regular frequency is increasingly difficult with the amount of competition in place. By way of example, several large firms with substantial resources used to take the approach of employing teams of entry-level employees to cold call companies with the objective of sourcing proprietary deals (examples include TA Associates and Summit Partners). With the number of private equity firms attempting to source transactions today, it is common for management teams to receive multiple inbound requests on a weekly basis. For this reason, a scripted cold call is often met with a dial tone. Investment bankers will know within minutes if the caller lacks experience, but some will tolerate it if they are familiar with the private equity firm. A successful CEO or entrepreneur, on the other hand, will generally end the call when they realize the caller knows little about the industry their company operates in. Today there are plenty of options for capital, which means a sourcing strategy needs to be focused to succeed.
INVESTMENT CRITERIA
It follows that to be successful a decent amount of work is required before a strong outreach strategy is developed. The first step is to develop the firm's investment criteria. On a superficial level, this should touch on the following:
Target Company Scale for Platform Investments (generally communicated as enterprise value or a revenue and EBITDA range)
Equity Check Size for Platform Investments (Lower Middle Market, Middle Market, Bulge-Bracket Private Equity, etc.)
Target Company Scale for Add-on Investments.
Geography
Industries of Interest
Investment Type (e.g. Control Equity, Non-control Equity, Junior Capital)
As the first three bullets suggest, scale is an important variable. Most transactions take place in what is known as the "middle market" of private equity. The middle market can be further broken down into the lower middle market (LMM), the core middle market (CMM) and the upper middle market (UMM). The revenue ranges for the middle market are visible in the image that follows.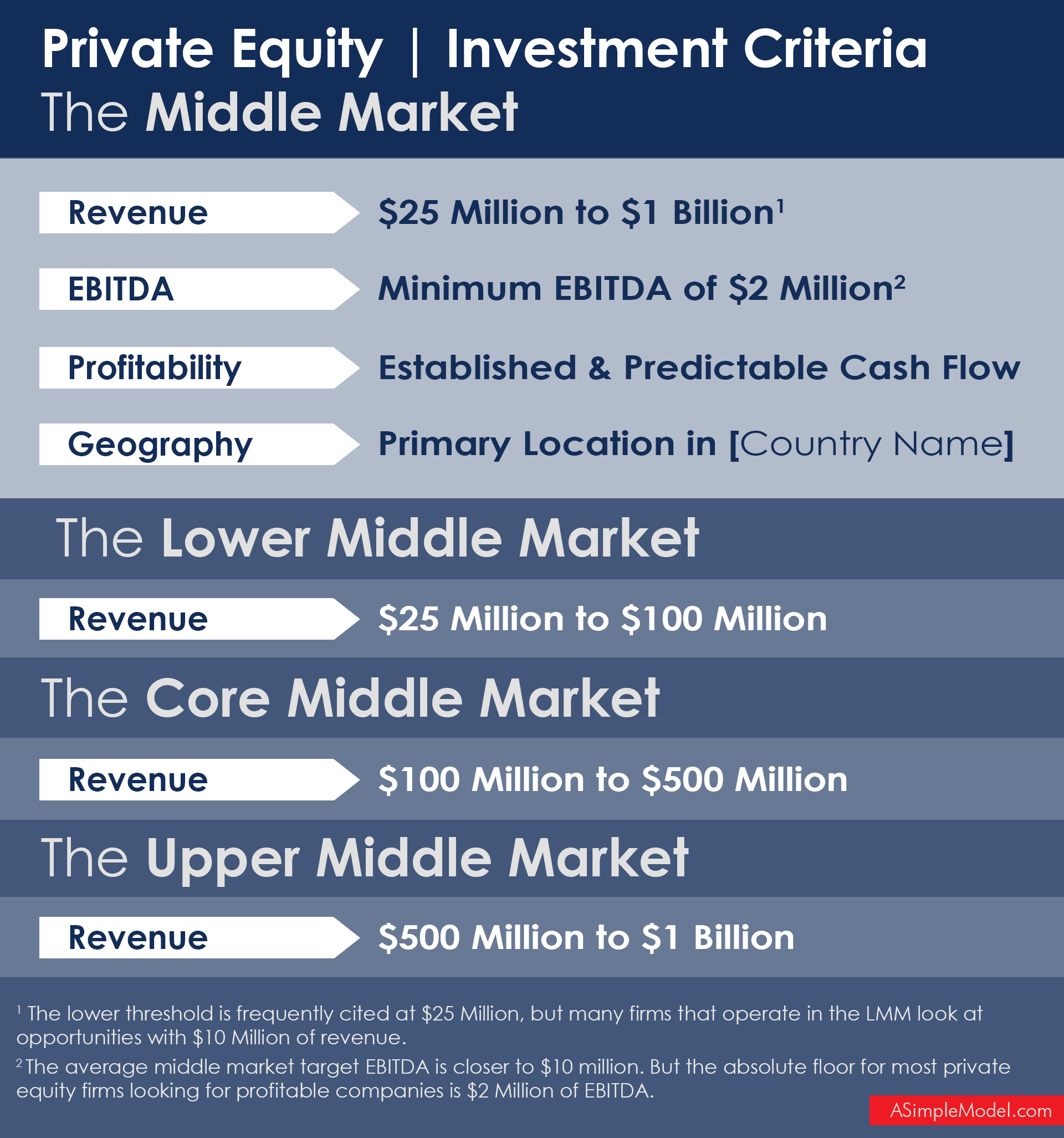 Please see PDF notes for more detail on investment criteria and outreach strategy.
.
POSTED BYPeter LynchTags:Sourcing, Deal Origination